Teeming October Events at Country Bookshelf

October is bustling with author events, receptions and more!
We're kicking things off Wednesday, October 3rd at 6pm with Missoulian author Chris La Tray and his debut collection of short essays, poems and observations - One Sentence Journal.
Charlotte Caldwell follows on Thursday, October 4th at 6pm with The Faces of Local Food which looks at the people and stories behind the food we're enjoying this harvest season.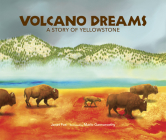 We'll be dreaming with the Yellowstone super volcano on Saturday, October 6th at 2pm for Janet Fox's new picture book Volcano Dreams.
We're celebrating MSU's homecoming Thursday, October 11th at 6pm with historian James Thull and archivsit Heather Hultman for their history Montana State University, Bozeman.

Sneed Collard will regale us, on Tuesday, October 16th at 6pm, with his playful observations on completing a "big year" birding challenge with his teenage son, with his new book Warblers and Woodpeckers.
On Wednesday, October 17th at 6pm we're hearing from Jason Taylor about his thrilling novel End of the Wild.
We're excited to welcome local educators, librarians, and parent packs for our annual Teachers' Reception on Thursday, October 18th at 5:30pm. We'll have wine and chocolate, along with other great freebies as we showcase partnership opportunities, and educational resources we're dying to share with our community.
With fire season giving way to snow season, we're welcoming back Bill Percy for his mystery/thriller The Bishop Burned the Lady on Wednesday October 24th at 6pm.
Thursday, October 25th at 6pm we'll learn from healer Bear McKay as she shares her book Your Energy Signature.

Celebrate the 40th anniversary of Ivan Doigs This House of Sky, and the publication of 2017's symposium papers with a reading and reception on Tuesday, October 30th from 6-8pm.
Check out our website for more details on all the happenings at Country Bookshelf!