Action Packed Upcoming Events
We have some action packed events closing out the month of September.
Wednesday, 10/19 at 6pm sees professor and ethicist Christopher Preston sharing his new book The Synthetic Age, in which he argues that what is most startling about this coming epoch is not only how much impact humans have had but, more important, how much deliberate shaping they will start to do.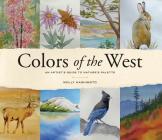 Friday, 10/21 at 6pm we're visiting with artist Molly Hashimoto as she shares her book Colors of the West. Hashimoto explores wild places through the lens of watercolor "en plein air" painting. Steeped in the natural world, this new book is organized by color, a unique approach to teaching both intermediate and budding artists how to really see color in the outdoor spaces around them, and then apply it to journals, other art projects, or simply beautiful memories.
We couldn't be more excited to welcome Bozeman favorite Craig Johnson on Sunday 10/23 at 2pm for his newest Longmire mystery - The Depths of Winter. This latest installments see's everyone's favorite Sheriff Walt Longmire braving the heat of Northern Mexico to rescue his beloved daughter Kady from cartel drug lords. You'll want to arrive early to save a seat - we're expecting a packed house!
On Wednesday, 10/26 at 6pm, Jennifer Peterson and Chef Barrie Boulds join us to share The Big Sky Bounty Cookbook highlighting Montana's habitats and natural resources offer an abundance of culinary possibilities and frames them with historical context. This delicious event is sure to be a treat!

Finally we'll hear from Laura Hartema about her new memoir Bering Sea Strong about her experiences in the Bering Straight. Part adventure and part self-discovery, Laura's memoir portrays her three challenging months as the only female and fishery observer (scientist) working alongside 25 rough-and-tumble fishermen on Alaska's high seas.